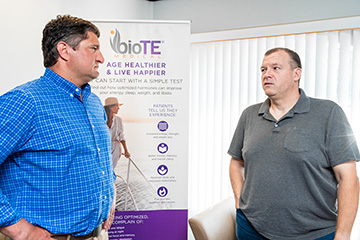 Hormone deficiencies can occur for a wide range of reasons, and can affect people differently. Whether you've suffered an acute trauma, are under constant stress, have developed poor nutrition habits, or are simply experiencing some of the effects of aging (low libido, fatigue, brain fog, etc.), hormone imbalances should not be taken lightly. Proper hormone levels help men and women maintain their alertness, a healthy libido, rest patterns, muscle mass, strength, mood, and proper digestion.
Additionally, many hormone deficiencies can result in disease (cancer, diabetes, etc.) and behavioral changes.
We know that balancing the full complement of hormones is essential to live an optimized life. For women, the proper balance of progesterone, testosterone, estrogen and thyroid makes for a complete HRT plan. That same balance is equally important for men. Other supplemental medications such as HCG, clomid, or estrogen blockers will also be considered for patients where those treatments are appropriate.
Another part of a proper and healthy hormone plan is to determine the need for any potential growth hormone treatment. At the Frank Institute, we utilize medications such as sermorelin to help the body produce more growth hormone. The benefits of a healthy growth hormone level includes improved vitality, improved recovery, and overall restoring and regenerating the body.
In order to properly assess your hormone levels and appropriate treatment options, each patient is given a comprehensive and extensive one to one assessment with Dr. Frank. Following that assessment, and necessary lab work, each patient is given a treatment plan that will include one or more of the following treatments:
Hormone Creams –
Hormone creams are a popular form of dosing for bioidentical hormones. They are advantageous, as the effect can be felt in as short as a couple days. This is in contrast to pellet therapy which can take up to 10-14 days to feel effect. These services are especially effective treatment for incremental increases of a deficient hormone. It can also be preferable for patients who have a history of sensitivity to higher doses of medication. The main benefit to the creams, versus the pellet therapy, is that the creams can be adjusted easily. They also have a shorter time of action, and are cleared from the patient's system sooner. They do require daily application, more frequent monitoring and more frequent office visits.
Hormone Injections –
Hormone injections are a popular testosterone treatment for men with low testosterone. These can be done in the office or at home, under doctor supervision. Frequency depends on the needs of the patient.
For information on how to administer testosterone injections for yourself,
watch this video. ▶️
Hormone Pellet Therapy –
This therapy involves the placement of a tiny, custom-compound pellet underneath the skin. The pellet is filled with the specific bioidentical hormone compound that is tailored to each individual patient's needs. The slow-release of that bioidentical hormone compound allows an even, longer-lasting distribution into the body, and that allows each patient a more consistent balance of hormone levels.
If you have questions about our work, please feel free to reach out to our Staff, make an appointment, or message Dr. Frank directly.