Intravenous Vitamin Infusion & Hydration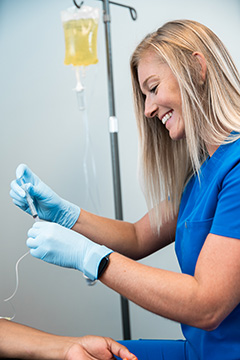 IV Infusion is the most effective treatment for vitamin and nutrient deficiencies because it administers those necessary components directly into the bloodstream, allowing for a higher concentration of vitamins to be absorbed, at a much faster rate than oral supplements would.
Proper hydration and vitamin levels are essential for timely recovery from injury, highly strenuous activity/exercise, excessive alcohol consumption, and the maintenance of both the body's immune system and hormonal balance. As the benefits of infusion and hydration are vast, we have created several packages for each client, as well as additives that can be included within those packages to address specific needs.
Our IV packages:
Myers Cocktail
Magnesium: Plays a critical role in energy production. Contributes to optimal nerve and muscle function
B-Complex: Energy levels, brain function, cellular metabolism
Calcium: Bone function and maintenance
Vitamin C: Antioxidant, protects cells from oxidative damage
Immunity Boost
Includes Ascorbic Acid, Vita-Complex, and Mineral Blend.
Recovery & Performance
Includes Ascorbic Acid, Vita-Complex, Mineral Blend, and Amino Acid Blend.
Biotin Beautifier
Includes Ascorbic Acid, Vita-Complex, Mineral Blend, Biotin push.
Available Infusion Additives:
Glutathione Push 2 mL
"The mother of all antioxidants." It helps the liver remove heavy metals and other toxins from our bloodstream, promotes a more effective immune system, and reduces the effects of aging.
Toradol Push 1 mL
A nonsteroidal anti-inflammatory drug (NSAID). Ketorolac works by reducing hormones that cause inflammation and pain in the body. Short-term management of moderately severe, acute pain requiring opioid-level analgesia.
B12 Push 1 mL
B12 is good for cellular metabolism and flushing out free radicals that cause cellular damage. It's an essential vitamin and necessary for DNA synthesis.
Biotin Push 2 mL
A water soluble B vitamin that helps your body convert certain nutrients into energy. It also plays an important role in the health of your hair, skin, and nails.
If you have questions about our work, please feel free to reach out to our Staff, make an appointment, or message Dr. Frank directly.